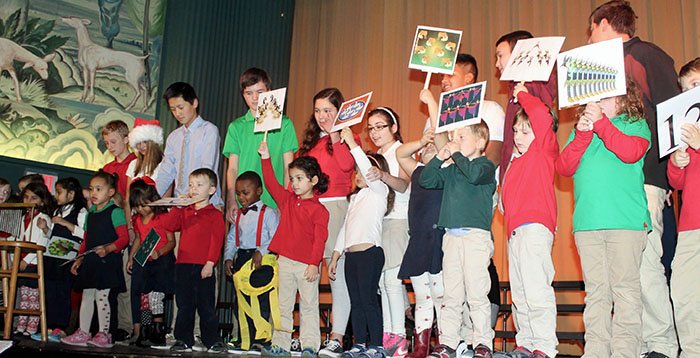 PERFORMING ARTS
Performing Arts includes instruction and practice in music, dance, movement, drama and public speaking. All classes take place in the single-purpose room in the school annex where there is space for easy access to all the pitched and un-pitched percussion instruments, as well as for movement and small group work.
The students enjoy a variety of activities. The youngest students practice playing rhythm sticks, drums, triangles and tambourines on the beat to recorded music as well as songs they sing. As the students grow in age and grade they begin playing the Orff instruments. Students experience different instruments assessing the difference in pitch, timbre and duration of the various sized wooden xylophones and metal metallophones and glockenspiels. The students practice playing specific pitches and rhythm patterns. Proper etiquette for instrument playing is always reinforced.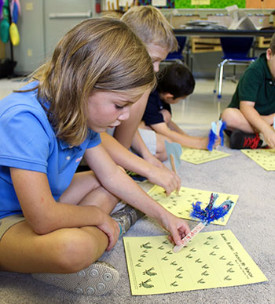 Students begin recorder study as third graders and continue through grade eight. Reading pitch and rhythm music notation is one of the major challenges in the early recorder program. The students learn about the elements of music including melody, rhythm, dynamics and form. They respond, in writing and verbally, to a variety of music excerpts demonstrating these aspects and practice some examples for themselves on the Orff instruments. Students also hone listening skills with melody recognition and instrument recognition.
Students prepare for an All-School theatre production each year. They help plan and choreograph dance numbers and contribute creatively to costume and prop concepts. In addition, students prepare, rehearse and "perform" short skits and monologues.